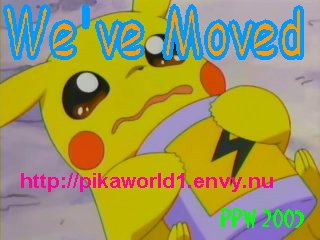 PPW Pika-World News!
11-16-04: We are officially moving for to a new home, to
http://pikaworld1.envy.nu/
, thank you. For your support, the new Poke-dex link is now up!
I now want to formally announce, that Pikachu's Pokemon World will be negotiating with
::Pokemon Land::
to form an alliance, we will keep you updated with all the inforamtion asap. There is no definite, alliance just yet. And finally check the TV Guide for this week's episodes.
~Pokemon Trainer X~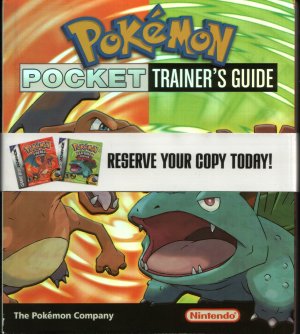 Pokemon of the Week:
Pokemon Card of the Week:
Up Coming Pokemon Events:
January 25, 2005: Pokemon Advanced Volume: 7 & 8 releasal.
February 22, 2005: Pokemon Master Quest Box Set 2 releasal.
April 2005: Pokemon Emerald releasal.
Pokemon Color Code
Blue => Episode DVDs
Red => Pokemon Games
Green => Pokemon Specials
Pokemon TV Guide:
Mon-Fri: 3:00 & 3:30 PM EST
Sat: 8:00 & 10:00 AM EST
Removed from
line-up indefinitely!
Top 10 Pokemon
of 2003: